5 Compelling Reasons to Buy Induction Technology-Based Rice Cookers
Rice is the staple food for many nationalities. In India too, many states have basically rice-eating population. If you love to eat rice for both or one of your meals daily, a rice cooker is definitely a must-have appliance in your kitchen.
Though there are various types of rice cookers available these days, but the induction technology-based rice cookers are the hot favourite. Induction means non-contact process and is the most advanced technology available. This technology uses radio frequency electricity running through an electrically conductive material for heating.
The following reasons make these induction technology-based rice cookers the most popular ones:
Better Flavour and Texture
Induction technology-based rice cookers produce the best results when it comes to the taste and texture. Rice cooked in induction-based cookers, irrespective of whether it is a small rice cooker or a bigger one, is fluffier and tastes better. If you have cooked rice conventionally or in some other rice cooker like an electric rice cooker, you will immediately notice the difference. For the conventional mode of cooking rice, you need expertise, but the induction-based rice cooker is intelligent enough and even a novice can prepare perfectly cooked rice in it.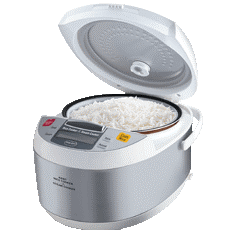 Consistent Heat
The heat is spread evenly throughout the cooking bowl. The major difference between cooking in an electric cooker and induction cooker is that in an electric rice cooker, rice starts cooking up from the bottom. The induction cooker, on the other hand, provides heat all around. The high pressure also aids in raising the temperature, which then penetrates right into the centre of the rice, thus cooking it better.
The Entire Inner Pot Is Used as a Heating Element
In the normal electric rice cooker, there is a heating element beneath the cooking pot. In induction cookers, the entire inner pot works as a heating element, which helps in fast and efficient cooking. For example, if you compare cooking basmati rice in a neuro-fuzzy logic cooker and induction-based cooker, you will find that neuro-fuzzy takes nearly 11 minutes more than induction-based models. This translates to substantial energy savings when using induction-based rice cookers.
Superior Technology
These induction-based rice cookers use most advanced technology. They are intelligent and computerized. The fuzzy logic in these is used in combination with induction technology to provide the best results.
Best Results with Different Rice Varieties
Changing the rice often leads to some hiccups initially but not if you are using an induction-based rice cooker. This technology is very responsive when it comes to temperature change and instant and precise adjustments are made automatically. This advanced technology helps in cooking all sorts of rice perfectly.
Induction-based rice cookers are getting extremely popular due to the numerous benefits they offer. They are a little expensive than their standard electric counterparts, but the benefits they offer perfectly justify this extra cost. It is a high-tech product that is designed to provide you with the best-cooked rice and if you take rice cooking seriously, a rice cooker is a must-have for your kitchen.